August 31, 2016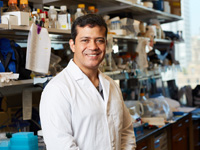 As an undercover investigator in the New York Police Department's organized crime unit, Christian Saffran had a knack for identifying underlying causes of criminal activity. In a job where being nimble could mean the difference between life and death, he thrived on seeing beyond the obvious to secure arrest warrants and make communities safer.
During drug purchases, he would assess every detail of every situation: "How do I get out of this room? What's behind this door?" Occasionally a dealer would shove drugs and a gun into his face, demanding him to use to prove he wasn't a police officer before he could talk his way out of it.
With each successful purchase Saffran would relay key information to his field team, which would storm the area and arrest the dealer or supplier. Those successful purchases and harrowing, death-defying situations released in Saffran a rush that made his job frequently exciting.
Twenty years later, he's about to test those detective skills in the lab. And nothing has ever excited Saffran more than scientific research.
Like police work, "it's about making connections that are counterintuitive," he says. "Finding those connections that you can't find on the surface. That's the most exciting thing to me."
Saffran is beginning his first year in the Tri-Institutional MD-PhD Program, a partnership of Weill Cornell Medicine, The Rockefeller University and the Sloan Kettering Institute that will arm him with the tools necessary to be a biomedical research leader. It's a challenge like nothing he's ever experienced, including staring down the barrel of a gun, because at 45, changing careers may be his biggest risk yet.
Defying expectations isn't new for Saffran. He was diagnosed with ADHD and a visual memory impairment at age 8 and he lacked the educational support children with these disorders receive today. Instead, he read and studied everything repeatedly, maintaining good grades throughout high school. Still, in 1991 he opted against college and joined the NYPD.
Saffran was successful on the force, becoming an undercover investigator in 1998. But he wanted more time to be a father to his daughter, Alorah, whom he raised as a single parent. He left the force in 2002 and opened a private investigation practice, mostly catching unfaithful spouses and vetting childcare services for parents. Soon he realized he wanted to use his skills to answer questions about human and societal development.
"I'm inquisitive and vigorous, so I have a talent for it," Saffran says. "But I liked it better when the investigative work that I was doing had a larger impact on society."
After watching Alorah overcome her own ADHD, Saffran decided to test his preconceived limits. He received a 4.0 GPA in one year at Rockland Community College, which earned him acceptance to Columbia University. There he faced stricter deadlines and a more demanding workload, so he worked harder, receiving help from the school's Office of Disability Services. The best thing about Columbia? His senior year also happened to be Alorah's freshman year.
Stirred by systems biology, Saffran entertained receiving his PhD. Thinking he would need one year of scientific research to prepare, he interviewed with Dr. Michael Kaplitt, director of the Laboratory of Molecular Neurosurgery in the Department of Neurological Surgery at Weill Cornell Medicine, and an alumnus of the Tri-Institutional MD-PhD Program.
"He said your first year is really going to be about finding your feet, and after the second year he said, 'I can provide a really strong letter, in case you wanted to do something like pursue an MD-PhD, like me,'" Saffran says. "It was the first time that anyone had ever said something like that to me."
Saffran worked for two years in Dr. Kaplitt's laboratory, becoming enamored with the idea of translating big-picture research to a clinical setting. He shadowed Dr. Kaplitt and his staff during pre-clinical interviews and examinations in the operating room. Since July, he has assisted with health screenings and interviewed patients in distressed communities as part of Weill Cornell Medicine's Heart to Heart Campaign, a program designed to help uninsured and underserved communities at risk of cardiovascular disease and other health problems make beneficial lifestyle changes.
"From the first moment of doing rounds, it was clear that what I wanted to do next was right in front of me," Saffran says. "As an MD-PhD you really get to throw yourself at big questions and investigate them rigorously. But at the same time you get to be on the front line where the help is being given."
Saffran was accepted into the Tri-Institutional MD-PhD Program — his first choice — last December. He matriculated last month, and will spend the next two years in a traditional medical school program — as well as in two graduate-level courses and three research rotations — before spending at least three years pursuing his a graduate education and research training to satisfy the requirements for the PhD degree. Finally, he'll spend 18 months completing his required clinical clerkships and pursuing clinical and research electives.
He's most interested in the biology of aging, and specifically, how science has extended lifespans but hasn't extended health spans at a corresponding rate.
"Our experiences in life tell us that things get old and then they break," Saffran said. "While that process seems perfectly normal and reasonable, it's actually not necessary for biological systems to respond to age in this way." He intends to investigate why this happens, and hopes to improve the health of our aging population in the process.
Poised to eventually receive the same degree as his mentor, Dr. Kaplitt, Saffran is still sometimes in awe of the opportunities ahead of him.
"I thought you have to be such a genius to do this kind of thing," he says. "It's the single greatest accomplishment of my life that is not directly connected to my daughter."
Posted August 17, 2016 12:34 PM | Permalink to this post