July 21, 2015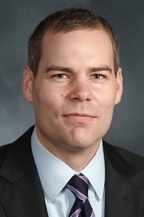 Thousands of people living with, or recovering from, non-Hodgkin lymphoma (NHL) will benefit from an $11 million boost from the National Cancer Institute to support a multi-institutional investigation into their current and long-term unmet healthcare needs. 
Peter Martin, M.D.,  the Charles, Lillian, and Betty Neuwirth Clinical Scholar in Oncology and assistant professor of medicine, will be overseeing the recruitment of participants and reporting of outcomes as the Weill Cornell site Principal Investigator for the Mayo Clinic-led "Lymphoma Epidemiology of Outcomes Cohort Study." He will be aided by John Leonard, M.D., and Giorgio Inghirami, M.D.
"The LEO Collaboration will be the largest study of its kind anywhere in the world and will undoubtedly lead to important, impactful discoveries. We look forward to enrolling participants at Weill Cornell as we seek avenues to increase long-term prognosis and survivorship for those living with NHL," Martin said.
"This multi-institutional collaborative study group, supported by the NCI, has a highly productive track record. We are very happy to be a part of it," Leonard added.
NHL originates in the lymphatic system, the very system that ordinarily serves as a disease-fighting network spread throughout the body. When this system is taken over by NHL, potentially lethal tumors develop from lymphocytes (a type of white blood cell). Seventy thousand people are diagnosed with NHL in the U.S. each year. It is estimated that there are 650,000 NHL survivors living in America today, reflecting a trend towards increased numbers of survivors over the past two decades.
Other institutions involved in the project include: Emory University/Grady Health System, the University of Miami Health System/Jackson Memorial Hospital, the University of Iowa, and MD Anderson Cancer Center.
Originally published on Monday, July 13 by the Meyer Cancer Center