July 1, 2016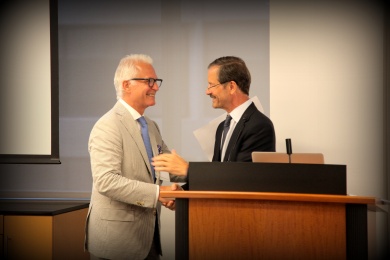 In many ways, it's a science success story: 8-year-old boy with a rare form of brain cancer is treated by one of the world's leading experts in the disease, who collaborates with a pioneering precision medicine institute to sequence his cancer and create a first-of-its-kind tumor model replica in the lab, allowing for further analysis and treatment testing without risk of harm to the child.
Upon analysis, the physician-scientist discovers a mutation previously not known to be linked to that type of cancer -- and it happens to be in the protein that his colleague has spent a career studying. He contacts the colleague to ask if there is a drug to target the protein, and it arrives the next day. Applied to the tumor model, the drug effectively kills 80-90 percent of the diseased cells.
If only the story ended there.
Unfortunately, although the drug has been approved by the FDA, it cannot be used on the young patient because it has never been tested in children, and the pharmaceutical company controlling the drug is not willing to take the risk.
"We now start the gymnastics of trying to get permission from the FDA based on compassionate use," said Jeffrey Greenfield, M.D., Ph.D. "We've done it before, and it takes anywhere from 3-6 months. This boy doesn't have 3-6 months."
Greenfield, a neurosurgeon at Weill Cornell Medicine and NewYork-Presbyterian, shared the anecdote at a special event held at Weill Cornell Medicine on June 29, one of 270 across the United States convened by Vice President Joe Biden in tandem with a national summit at Howard University in Washington, DC 
Biden invited regional participants to discuss the goals of the "Cancer Moonshot" mission, announced in January by President Barack Obama as a way to accelerate cancer research, foster data sharing and collaboration, and improve patient access to care -- all on a five-year timeline.
Greenfield said his story summed up some of the challenges the nation will face in trying to achieve such an ambitious goal.
"The promise of precision medicine, which is enormous and which we have all bought into, doesn't deliver in this case," Greenfield said. "We've done all the work that we've promised to do, and we still have hurdles. The science is great, the medicine is great, but we've got to figure out a way to bridge the chasm between academia, pharma and clinic."
To read the full article [go]

Reaching the stars
"Cancer can be inscrutable, incorrigible and inexplicable, and brain cancer perhaps the most complex cancer of all. There is a beauty in facing up to the behemoth and challenging its clever, wicked ways by saying the answer … starts by putting human beings and their 360 degree oneness at the center of the plans of attack, understanding every facet of their experience, and letting mad and meaningful innovation flow." Read more about Jessica's experiences and insights on her blog