For one patient, the decision to enroll in a clinical trial was life-changing
December 12, 2016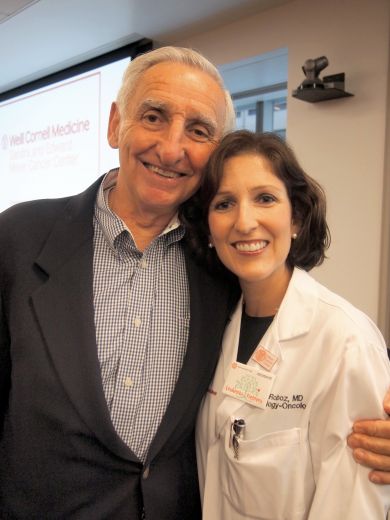 Ralph Hills was diagnosed with acute myeloid leukemia (AML) in 2014 and doctors told him to "get your affairs in order." Like many patients with this aggressive blood cancer, Hills planned to start chemotherapy -- a standard course of treatment -- until Dr. Gail Roboz, Director of the Leukemia Program at Weill Cornell Medicine and NewYork-Presbyterian proposed an alternative.
"On a Sunday evening, 12 hours before my chemo was scheduled to start, Dr. Roboz called us at home and asked if I would consider changing my treatment plan," Hills said. "I was told that very recent research has differentiated AML mutations and might match a patient to a new medicine to destroy leukemia cells. So my choice was an unknown trial drug versus chemo and a short life span. We did not hesitate."

Everything changed when he enrolled in this innovative clinical trial through the Joint Clinical Trials Office at Weill Cornell Medicine/NewYork-Presbyterian. Learn more about the treatment that put his cancer into remission without requiring him to be admitted to the hospital. 
Abridged from the full story which can be found on the Meyer Cancer Center website.