July 19, 2016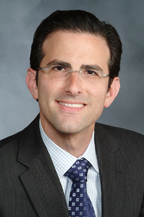 At Weill Cornell Medicine, people are the heart and soul of our institution. Our faculty and staff — the physicians, scientists, and administrators who work so hard every day to fulfill our mission to care for patients, discover innovative cures and treatments, and teach the next generation of physicians — make us who we are.
We Are Weill Cornell Medicine : Dr. Randy Longman from Weill Cornell Medicine on Vimeo.
In the coming months, in words, photos and videos, we will celebrate this community and its achievements, introducing you to the talented and committed faculty and staff who make Weill Cornell Medicine the world-class academic medical institution and unusually collaborative environment it is. Their stories, all part of a new campaign called We Are Weill Cornell Medicine, capture their unique specialties, the personal experiences that drive them, and the teamwork that is dedicated to bettering our patients' lives.
Each of their stories is distinct and memorable — but what they all have in common is an intense dedication to Weill Cornell Medicine and everything it stands for. "I look at my team, and it's made up of people who are determined, passionate, stubborn — they never give up," says Dr. Silvia Formenti, chair of the Department of Radiation Oncology. "And they all, each of them, are ready to go the extra mile to make a difference. I think the patients sense that."
The campaign, launched July 18, includes a video series that showcases the institution's experts who are doing groundbreaking work every day. Viewers are introduced to Dr. Formenti and five other members of the Weill Cornell Medicine faculty, who in 90 seconds explain why they are passionate about science and medicine and why they've devoted their lives to these pursuits.
Complementing these segments is an upcoming photo essay in Weill Cornell Medicine magazine, which captures faculty in the very places where they do their work. There they give us a glimpse into life experiences that allow us to see them not just as scientific and medical experts, but as people with unique passions and motivations that shape their work.
With the campaign's launch, we have established the hashtag #WeAreWCM to drive excitement and engagement across all four of our social media platforms: Twitter, Facebook, Instagram and LinkedIn. A dedicated We Are Weill Cornell Medicine webpage, accessible from the institution's newsroom, will house all of this content so that faculty and staff can continually reflect upon what makes Weill Cornell Medicine special. We hope that you find us on these platforms, and add stories — yours and those of other members of the Weill Cornell Medicine family — that should be heard.
"There is nothing more gratifying than making one person feel better," says Dr. Randy Longman, an assistant professor of medicine and a scientist in the Jill Roberts Institute for Research in Inflammatory Bowel Disease. "I am lucky to work at Weill Cornell Medicine, where doing research and being a physician-scientist is not just a buzzword; it's a mandate."
For more inspiring stories, check back to learn about how Dr. Len Girardi's time in his dad's auto shop shaped him into a leading cardiothoracic surgeon, the medical school moment that directed Dr. Formenti to oncology, and why Dr. Yoon Kang encourages her medical students to channel Mom during their studies. We Are Weill Cornell Medicine.
Using the social media hashtag, #WeAreWCM, read more stories to discover the faces behind the medicine and how they are paving the future for innovative healthcare.
Posted July 18, 2016 11:20 AM | Permalink to this post