January 28, 2014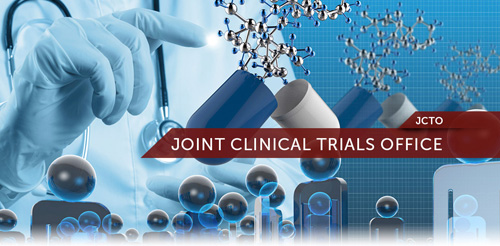 A unique collaborate enterprise was formed on January 1, 2013 between NewYork-Presbyterian and Weill Cornell Medical College to foster and advance clinical research. 
The Joint Clinical Trials Office (JCTO) was formed to address the need to provide fully-integrated support to investigators involved in clinical research. The JCTO provides a platform for improving efficiencies by streamlining workflow and eliminating duplicative processes. The integrated unit is able to offer services in the areas of contracting, finance, research integrity, study activation, social media and community outreach all under one umbrella. The new and improved joint platform is invigorating the clinical research community and increasing the number, quality and impact of our clinical trials. 
The JCTO operates under the leadership of its Director and Associate Dean for Clinical Research, Dr. John Leonard. The carefully structured team includes Dr. Mary Simmerling, Assistant Dean, Research Integrity, supervising areas including the Institutional Review Board, the Data Safety Monitoring Board and Conflicts of Interest program. Aleta Gunsul, Director, Business Operations, oversees contracts and finance. Alicia Lewis, Director of Cancer Clinical Trial Operations and Erica Love, Associate Director, General Clinical Trial Operations, overseeing regulatory management, training, quality assurance, operations and investigator support. A dedicated group of over 35 staff support these cross-functional teams. NewYork-Presbyterian/Weill Cornell leadership from all areas including operations, legal, finance and strategy serve on the JCTO Steering Committees. 
A significant milestone achieved in early Fiscal Year 2014 was the launch of the institution wide Clinical Study Evaluation Committee (CSEC). The CSEC is based on a successful peer review model employed by the Department of Medicine for over ten years. The Committee provides input into the areas of study design, biostatistics, scientific merit and feasibility. The CSEC provides a collegial platform for the exchange of ideas and mentorship. The Committee is distinct from the Institutional Review Board because its focus is on feasibility and effective study activation and conduct. 
For more information about recent initiatives, milestones and future plans click the link below to view our presentation.

JCTO Info Update 12.18.13 Final.pptx